Product Description
Diameter Range (mm): 200 250 300 350 400 SN4&SN8
Main Extruder Motor Power: 110kw+90kw
Line Space Occupation: 31mx4.8mx3.1m
Capacity: 650-800kg/h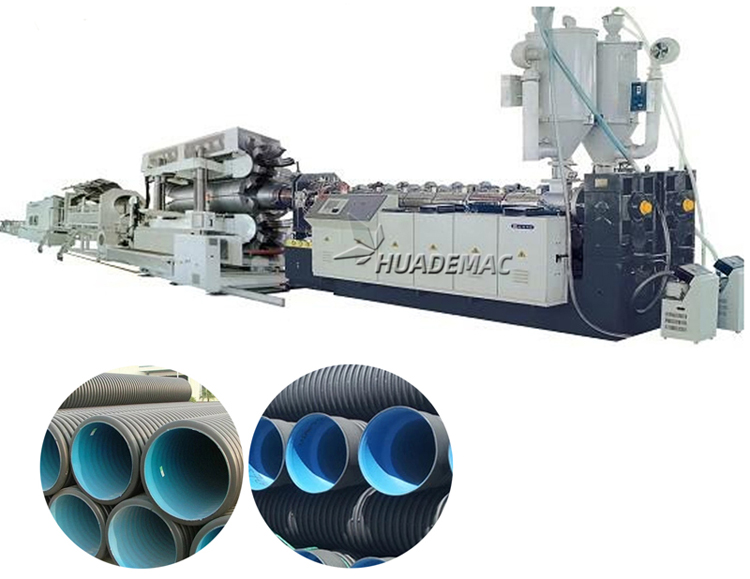 The extrusion line adopts a co-extrusion technology with double extruders to
produce HDPE double wall corrugated pipe from ID200 mm up to ID400 mm.
Total installed power: 450 KW;
Normal working power: 250 KW;
Cooling water:≤15 , 0.15-0.2 MPa, 0.3 m3 /min;
Compressed air: ≥0.5 MPa, 0.3 m3 /min;
External dimension (LXWXH): 31,000 mm X 4,500 mm X 3,100 mm.
Brief Introduction PP PE double wall corrugated pipe extrusion machine :
HDPE Double Wall Corrugated Pipe Machine/Extrusion Line with various diameter and wall thickness

Size: 200-250-300-400-450-500-560-600-710-800mm.

The plastic Pipe Production Line mainly includes single screw extruder, pipe extrusion die, vacuum calibrating water tank, spray cooling water tank, hauling unit, cutting unit and stack unit.

Apply Siemens, ABB, Schneider Famous brand electric components and high quality extruder alloy screw and barrel.

Supply technical service, formula guide and staple raw material purchase.
Features of PP PE double wall corrugated pipe extrusion line :
The production line is configured with single screw extruder and grooved feed barrel which ensures extruding in high efficiency.
It adopts vertical type forming mould with strong cooling ability, ensures stable and fast lineal speed.
Technical Data PP PE double wall corrugated pipe making machine:
| | | | | |
| --- | --- | --- | --- | --- |
| Model | Extruder | Diameter (mm) | Extrusion Speed (m/min.) | Capacity (KG) |
| HDG-600 | SJ90-33 & SJ75-33 | 200-400 | 0.1-3.5 | 650-800 |
| HDG-800 | SJ120-33 & SJ90-33 | 400-800 | 0.1-3.0 | 800-1200 |