Product Description
MBN-FOSC-A2 Waterproof Fiber Optic Splice Box with Universal Access Up to 256 FO
MBN-FOSC-A2 a universal access junction box that allows the continuity and segregation of medium capacity optical cables used in the deployment of optical power networks and transport. The design of the box allows the mechanical continuity of the cable pulling elements and protects the fibers, the junctions and optical devices facilitating the organization of splices and fiber surplus storage. The box is airtight and resistant to weather conditions by which can be installed both outdoors and indoors buildings in chambers of record, boxes, walls, posts or cable galleries.
Features
It has 4 independent cable accesses at one end. Each of them allows individualized entry into the
less two medium-capacity multifiber cables (double inputs) and up to 6 small capacity optical cables (7mm.).
The closing cover is completely assembled and removed without the need for special tools thanks to the clip-type seal.
The sealing of access cables to the box is done by rubber gaskets with pre-cut entries.
Diameter inputs/outputs cables from 22 to 7 mm. Maximum 256 fusions of F.O (double layer).
Wide and easily accessible rectangular splice trays with extendable tabs for better fiber storage up to 32 F.O. (double layer).
Both the support block and the individual trays allow 90º turn and its interlocking in fixed positions to facilitate installation.
Operating temperature -25 to +70 oC.
Degree of protection against mechanical impacts IK09 (20 J).
The box once closed is completely hermetic and resistant to weather conditions. Degree of protection IP-68.
The materials are designed for a minimum duration of 20 years.
Purpose: aerial, direct-burying, wall mounting, Pipeline laying way
Dimension (CM):55.5*29*11CM
Cables Entry & Exit:2Entry 2Exit
Cable Diameter (mm): Φ7-Φ22
Material: Base Material and High Strength Polycarbonate Case. Color:light grey
Trays Polycarbonate + ABS. Black color
Maximum capacity: Bunchy 48cores;
Weight: 3.6Kgs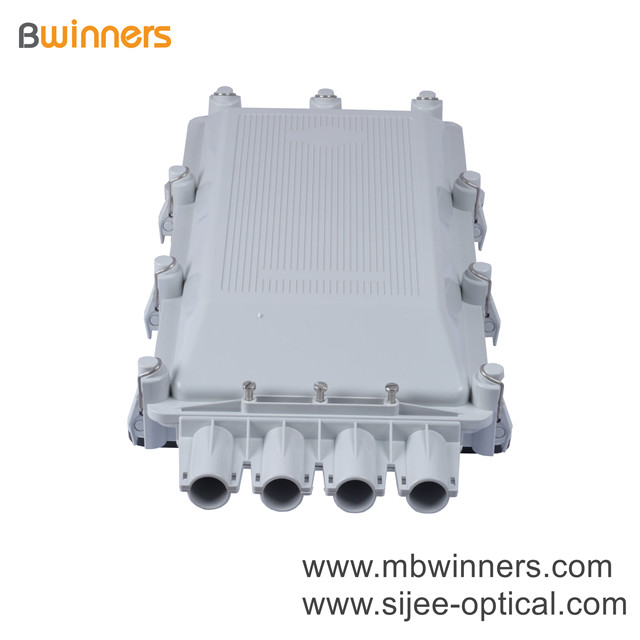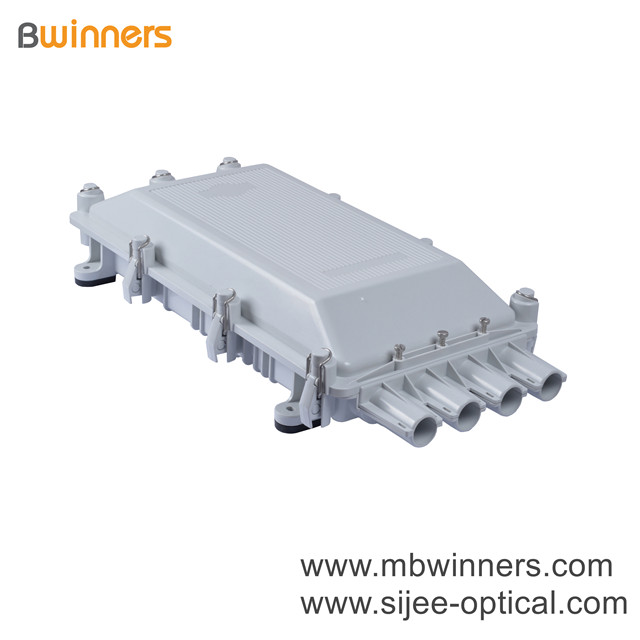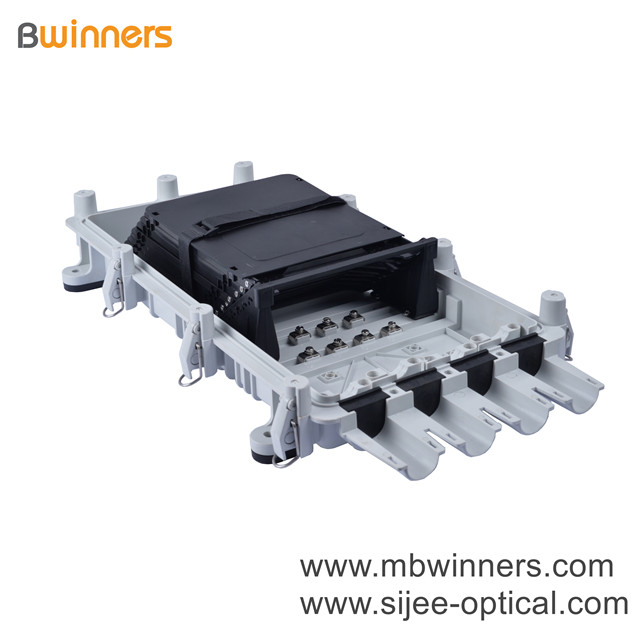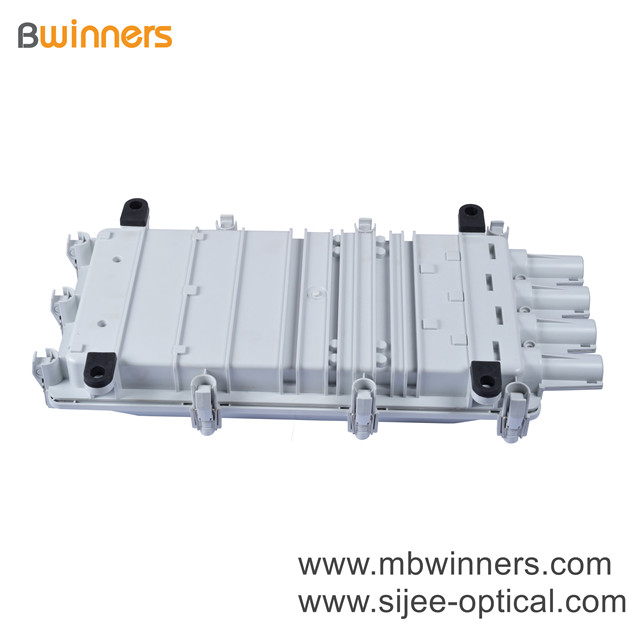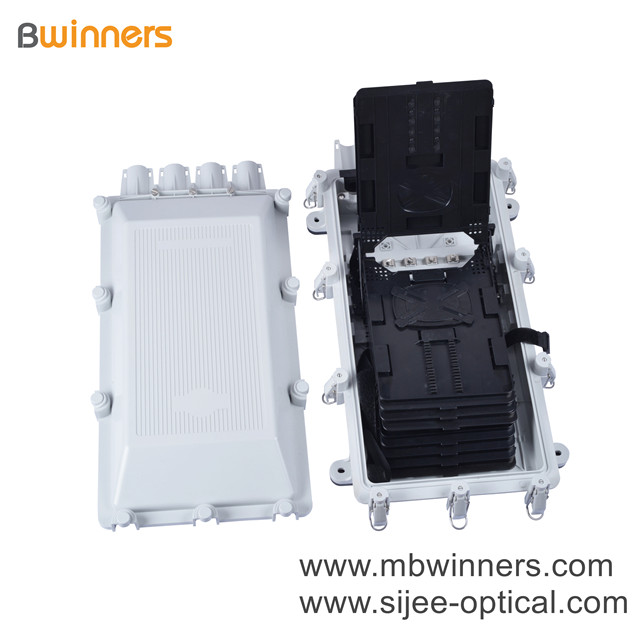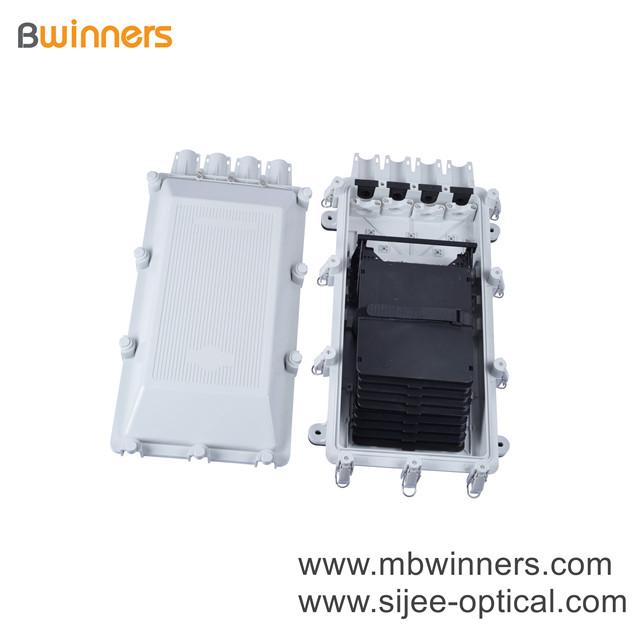 Main Technical Indexes:
1. Airproof performance: Airing pressure inside box 100Kpa, pointer immovability after 24 hours or no air bell within 15min when parked in the common temperature water.
2. Re-encapsulation performance: no change in the index of air-proof performance after three times of repeat encapsulation.


Sijee was established in 2002. Our factory is located in Ningbo, the exact address is No.20 Chuangxin East Road, Liyang Town, Ningbo, Zhejiang, with the factory area of more than 28,000 square meters. Sijee's products have passed the ISO9001 , GB/T24001-ISO14001, and GB/T28001-2001, Sijee has also established an environmental management system and occupational health/safety management system. Sijee won bids several times within many years from China Mobile, China Telecom, China Unicom's procurement projects. Some products were exported to Europe and America, Southeast Asian countries.
Sijee has a talented and professional team engaging in sheet metal case/cabinet processing, urban facilities, communication equipment research and development, design, manufacture, and sales. Sijee, as a relatively large domestic telecommunications equipment and distribution products and plate metal case/cabinet suppliers, focuses on providing service to domestic and foreign operators, large domestic listed companies and radio and television bureaus to provide first-class products and FTTx overall solutions.
Sijee Telecom Communication products include: Dome Fiber Optic Splice Closure, Fiber Cable Joint, FOSC Fiber Optic Joint Box, Fiber Cables Enclosures, Compact Fiber Optical Splice Closure Box, FTTH Splice Closure, Fiber Optic Splice Joint Closure, Plc Splitter/ Plc Splitter Box/Juction Box Fiber Odf Optic Closure, Small Fiber Optic Splice Closure, FTTH Optical Fiber Cable Joint Closure, Fiber Optical Distribution Box, FTTH Fiber Optic Socket Face Plate, Fiber Optic Patch Panel, ODF Optical Fiber Distribution Frame, OCC Optical Fiber Cross Connection Cabinets, Network Cabinet, Equipment Enclosure, PLC Splitter, Patch cord, Adaptor, FTTH Accessories, etc.
Sijee Equipment Enclosure includes all kinds of Equipment Enclosure, wall mounting enclosure, junction box, network box, electrical enclosure box, stainless steel enclosure, electronic equipment racks, metal cabinets, metal enclosure CATV enclosure, etc.
Sijee has a first-class sheet metal equipment workshop, and a special sheet metal product design department, the workshop has large laser cutting machines, CNC punching machines, CNC bending machine, CNC shears, robot automatic welding lines, automatic bending machine, variable pump injection molding machine with different tonnages, a number of standard assembly lines, with a strong sheet metal design and processing capacity, Sijee provides more than 800,000 various sheet metal cabinets and over 100 Million sets of fiber optic splice closures to domestic operators annually.
Sijee is equipped with a full set of advanced testing and test equipment and specialized testing laboratories. Sijee has good after-sales service, and always pursues the "quality to win the trust, honesty to pursue development" business philosophy to meet customer needs at best, as our unremitting efforts to the goal.