Pipe elbows
Pipe elbow are used to be installed between two lengths of pipe or tube allowing a change of direction,usually these elbows distinguished by connection ends.
Key Specifications/Special Features and Materials
the material is selected accoding to the application use such as high temperature use,sanitary fitting,regular industrial use etc.
Carbon steel: ASTM A234wpb, WPC, ASTM A420 WPL6 Pipe Fitting , WPL1, WPL3, WPHY-42/46/52/56/60/65/70
Stainless steel: ASTM A403 304/304l Elbow, WP316/316/L, WP321, WP347 and WPS31254
Alloy steel: ASTM A234 WP1/WP12/WP11/WP22/WP5/WP7/WP9/WP91
Manufacturing standards: ANSI, ISO, JIS and DIN.
The ends of pipe elbows may be machined for butt welding , threaded , or socketed , so the elbows are consist of butt weld,thread elbow, socket elbow and other series.
Application of Pipe Fitting elbows:
Petroleum, chemical, power, gas, metallurgy, shipbuilding, construction, etc.
A wing of a building at right angles to the main structure.
A right-angled bend in a pipe or conduit; an elbow.
Elbows are design features as below
An elbow is a pipe fitting installed between two lengths of pipe or tubing to allow a change of direction, usually a 90° or 45° angle, though 22.5° elbows are also made.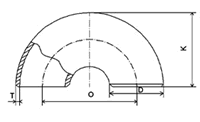 Pipe elbows size
Pressure:

SCH5 to SCH160

Size range:

1/2 to 56 inches (DN 15 to DN 1,400mm), 22.5 Deg, 45 Deg, 90 Deg, 180 Deg

External arc length of elbow

Process:

butt welding, seamless, threaded , or socketed
By default, there are 5 opportunities, the 45°, 90° and 180° elbows, all three in the "long radius" version, and in addition the 90° and 180° elbows both in the "short radius" version.
Long radius lr elbow

Long Radius LR Elbow – radius is 1.5 times the pipe diameter

L/R 45°Elbow
L/R 90°Elbow
L/R 180°Elbow
Short radius SR elbow

Short Radius (SR) Elbows – radius is 1.0 times the pipe diameter
S/R 45°Elbow
S/R 90°Elbow
S/R 180°Elbow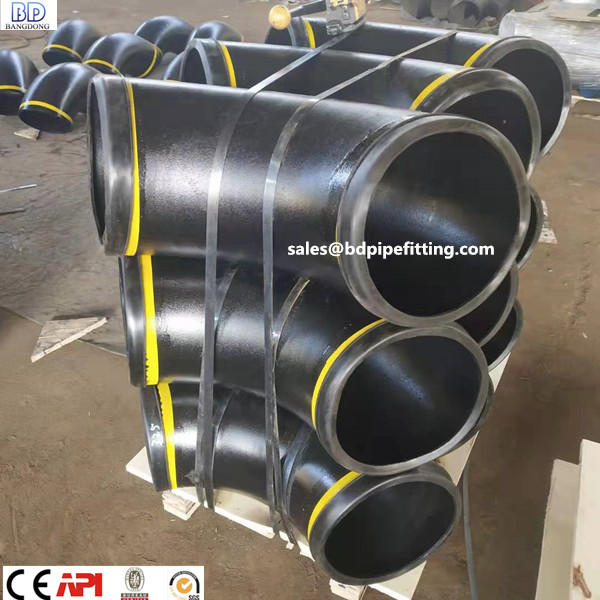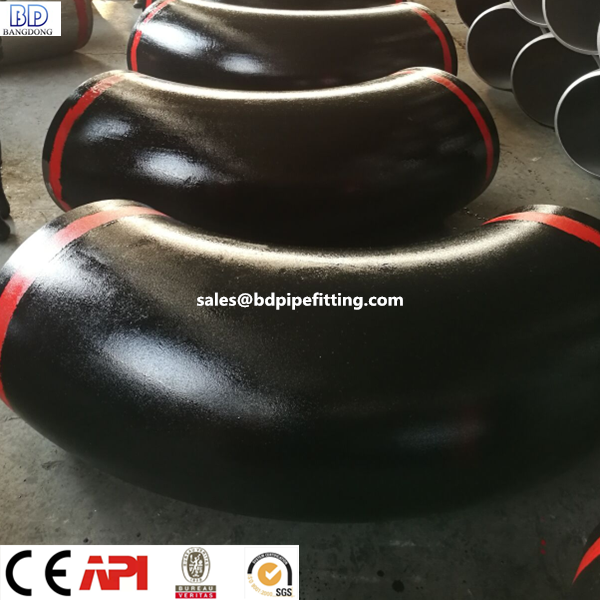 ASME SA335 P91 elbow
ASME SA335 P22 elbow
Elbows are split into two groups which define the distance over which they change direction; the center line of one end to the opposite face. This is known as the "center to face" distance and is equivalent to the radius through which the elbow is bent.
Here below, for example, you will find the center to face distance of NPS 2 elbows (the A distance on the image)
90°-LR : = 1½ x 2(NPS) x 25.4 A=76.2 mm
180°-LR : = 2 times the 90° LR elbow A=152.4 mm
90°-SR : = 2(NPS) x 25.4 A=50.8 mm
180°-SR : = 2 times the 90° SR elbow A=101.6 mm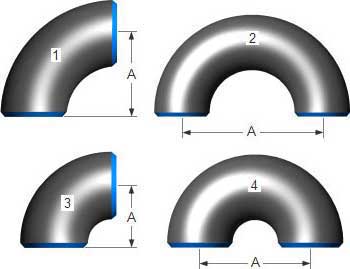 3D elbows as an example, are calculated with:
The center to face distance for a "long" radius elbow, abbreviated LR always is "1½ x Nominal Pipe Size (NPS) (1½D)", while the center to face distance for a "short" radius elbow, abbreviated SR even is to nominal pipe size